Karl Auto Group Fleet Management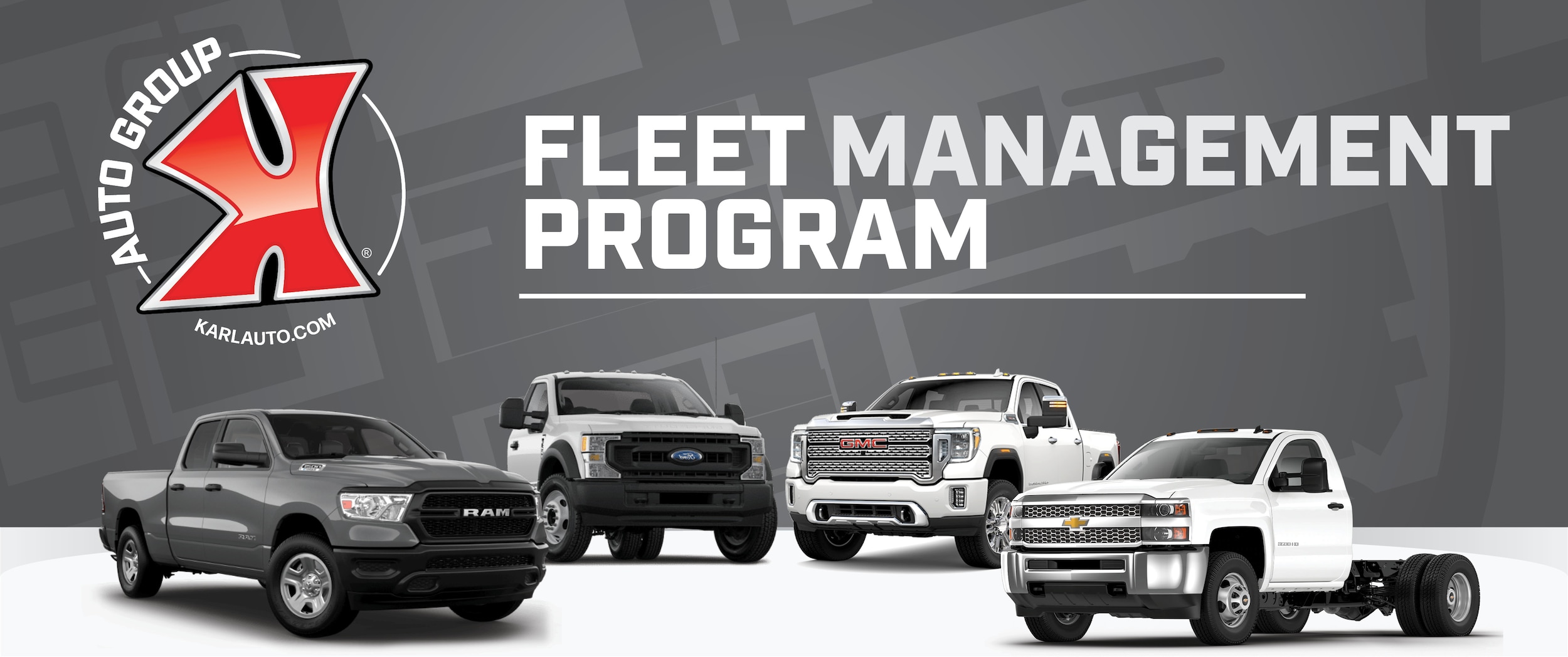 What is Our Fleet Management Program?
Karl Auto Group is now offering a Fleet Management Program that covers every aspect of your fleet vehicle
needs with some added perks. This allows you and your employees to focus on your customers while leaving all
your fleet needs - from start to finish - to us.
Here are just a few of the benefits you'll experience with our Fleet Management Program:
• Multiple Funding Options (Lease/Finance/Cash)
• Large dealership Inventory for vehicles and parts
• Maintenance and Repair Management
• Post Warranty Recovery
• Fuel Cards
• Digital Dashboard to help manage your fleet
• License Renewals
• Telematics
• Onstar Vehicle Insights
• Risk Management
• Emergency Roadside Service
• Accident Reporting
Call today or stop into any Karl Auto Group location and speak with one of our Karl Auto Group Fleet Management
Team members today! Learn how we can build a program to meet your companies specific requirements while
saving you time and money.
Make an Inquiry
* Indicates a required field

Karl Auto Group

1101 SE Oralabor Rd
Ankeny, IA 50021


Karl Buick GMC of Marshalltown

1000 N 3rd AVe
Marshalltown, IA 50158


Karl of Marshalltown

908 N 3rd Ave
Marshalltown, IA 50158-1831


Karl Chevrolet Buick GMC

1705 2nd St.
Webster City, IA 50595


Karl Chevrolet

1101 SE Oralabor Rd.
Ankeny, IA 50021


Karl Chevrolet of Stuart

324 SW 8th St.
Stuart, IA 50250


Karl Pre-Owned

901 Colorado St.
Glidden, IA 51443


Karl Ford of Story City

510 Factory Outlet Dr
Story City, IA 50248

Visit us at: 1101 SE Oralabor Rd Ankeny, IA 50021